Forestry Notes: May 2014
NACD publishes Forestry Notes to highlight forestry issues of importance to districts and to showcase district-related forestry projects and success stories. Forestry Notes is funded through a cooperative agreement between NACD and the U.S. Forest Service.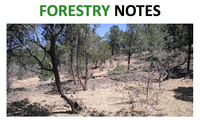 Partnership helping to 'restore' landscape
A year ago, Norman Vigil was ready for retirement. He had dedicated 37 years of his life to conservation, much of it running programs for NRCS in New Mexico. But not long after leaving the agency he was approached by the New Mexico Association of Conservation Districts (NMACD) with a job offer – one he and more than two dozen former state NRCS, Forest Service and Bureau of Land Management (BLM) staff have been unable to turn down.
For close to a decade, NMACD has turned to retired agency staff to assist in their role in Restore New Mexico, an initiative designed to control invasive brush species, improve riparian habitat, reduce woodland encroachment, and reclaim abandoned oil and gas well pads. Dating back to the last Farm Bill, NMACD has used Environmental Quality Incentives Program (EQIP) funds to coordinate work on federal land – a rare exception to the program made possible thanks to former USDA Undersecretary for Natural Resources and Agriculture Mark Rey.
"His goal was to connect the Forest Service with private landowners, but the program didn't work as designed," says NMACD Executive Director Debbie Hughes. Breakdowns in the process and program confusion created an initial setback, but NMACD found a willing partner in BLM, which matched the $1 million earmark dollar for dollar. The program has continued – and evolved – thanks to support of state conservation leaders, and soon the Forest Service saw the potential.
Last December, the Forest Service and NMACD entered into a technical service agreement – the first of its kind in the state – to conduct work using EQIP funding. The interest level was high; Hughes and other state association leaders visited with Southwestern Regional Forester Cal Joyner to discuss how the program could work in the state. But the Forest Service presents a unique challenge NMACD did not face with BLM; each budget is managed by the district forester, meaning the partnership would need to be "sold" on a one-by-one basis.
Leaders expect costly, destructive 2014 fire season
A new report, released in May, projects firefighting costs in 2014 could reach $1.8 billion – close to a half-billion more than the U.S. Forest Service and Department of Interior (DOI) have allocated to spend.This spike in firefighting spending is nothing new, and something Forest Service leaders have drawn attention to for some time. Speaking to attendees at the Sustainable Forestry Initiative Annual Conference last fall, former Forest Service Chief Dale Bosworth noted that in the 1990s, firefighting accounted for roughly 15 percent of the Forest Service's annual budget, but is now pushing the 50 percent mark.
Two Chiefs' Partnership Award nominations
The U.S. Forest Service and Natural Resources Conservation Service (NRCS) are seeking nominations for the seventh annual Two Chiefs' Partnership Award. The awards are given to recognize successful conservation efforts made possible through partnerships among employees or officials from state forestry agencies and conservation districts, as well as Forest Service and NRCS, who have worked collaboratively to support conservation and forest stewardship. The 2013 Two Chiefs' Partnership Award certificates will be given in two categories, individual and group, and will be presented to the recipients by Forest Service and NRCS leaders at an appropriate venue or by mail following the announcement by the agency heads.
FORESTRY BRIEFS
Special EAB webinar available online
The recent NACD webinar "Emerald Ash Borer (EAB): Partnerships and Planning" is now available to view online. The hour-long webinar includes presentations from U.S. Forest Service National Entomologist Bob Rabaglia, DeKalb County Soil and Water Conservation District Natural Resource Coordinator Allen Haynes, and University of Minnesota Extension entomologist Jeff Hahn. Topics range from the history and expansion of EAB, strategies for treatment and outreach efforts, and ideas for how communities can assist in identification and cleanup efforts. The webinar was co-sponsored by the NACD Forest RPG and Urban and Community RPG. To learn more about EAB, visit http://emeraldashborer.info. Click here to view this webinar

>> APHIS tackling Asian longhorned beetle in Massachusetts
To date, more than 20,000 infested trees (and more than 10,000 high-risk host trees) have been removed from a regulated area in Massachusetts thanks to efforts from the U.S. Department of Agriculture's Animal and Plant Health Inspection Service (APHIS). The pest was detected in the state six years ago. Survey teams investigate areas with the hope of confirming the beetle is not beyond the known infestation. Landowners can also report infested trees. The program works with entomologists and foresters to further develop pheromone traps, which are expected to be placed in June. Other methods include: regulatory treatments for wood and nursery stock; looking at chip size and grinding techniques to deregulate host material; and assessing the use of pesticide treatments in the fall. The Massachusetts Department of Conservation and Recreation is helping to replant trees removed as part of the eradication effort.

>> Report analyzes how northern forests will change in next 50 years
A recent report published by the journal Forest Science forecasts forest conditions over the next 50 years in the 20-state region. Authors identified five long- and short-term factors that will influence the forest landscape. "In the next 50 years, the link between forests and economic and human health will grow. The Northern Forest Futures Project is helping identify the individual and collective steps needed to ensure healthy and resilient futures for trees and people alike," said Michael T. Rains, Director of the Northern Research Station and the Forest Products Laboratory. The report is available at: http://www.nrs.fs.fed.us/pubs/45716

>> Kentucky forest industry is thriving
According to figures published in the Courier-Journal, the forestry industry is on the rise in Kentucky. A University of Kentucky research team estimates that the industry is responsible for $7.9 billion of the state's economy, up 2.9 percent from 2011. Employment within the industry also increased by more than four percent since 2011 (a total of more than 27,000 jobs last year). Products ranging from whiskey barrels to wood flooring and cabinets have helped the state's industry remain steady.

>> Scientists studying kudzu bugs
Researchers from North Carolina, South Carolina and Georgia are working together to figure out what makes kudzu bugs tick. Although the bug feeds on kudzu in early spring, it will shift attention to soybean fields once they are planted. The researchers have one basic question: Why? "Kudzu bugs overwinter behind tree bark," N.C. State University Extension Specialist Dominic Reisig said. "They particularly like the loose bark of pine trees. We've also found them below broadleaf litter. From there they move to kudzu, so we think kudzu is an important bridge host." To find out how far kudzu bugs can fly, researchers will attach adult kudzu bugs to a flight mill that measures the insect's speed and distance.
Calendar
2014 Smallwood Conference
June 3-5
Rochester, Minn.
Visit Forest Business Network
NACD 2014 Soil Health Tour
July 21-22
Indianapolis, Ind.
Visit NACD website
NACD Forest RPG Meeting
September 15-19
Portland, Ore.
Email Mike Beacom
Forestry NetworkNACD's forestry leadership is looking for your input. Help us to understand your forest resource concerns. Share your success stories.Have a question for your regional conservation district forestry representative? Click Here
Have a forestry story idea to share? Click Here 
NACD · 509 Capitol Ct. NE · Washington D.C. 20002 · P:202.547.6223 · F:202.547.6450
Document Actions